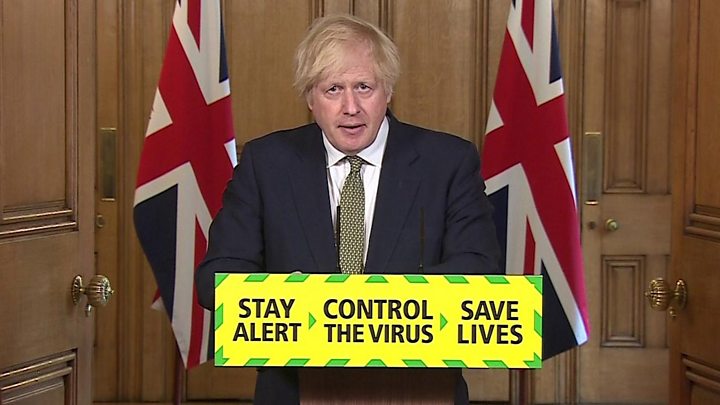 Parents and teachers should prepare for the phased reopening of schools in England to start on 1 June as planned, the prime minister has confirmed.
Boris Johnson said the government intended to reopen for early years pupils, Reception, Year 1 and Year 6.
The week after, up to a quarter of Year 10 and Year 12 will be allowed "some contact" to help prepare for exams.
Schools closed on 20 March, except for key workers' children and vulnerable children, as Covid-19 spread in the UK.
Speaking at the daily Downing Street briefing, Mr Johnson said he was setting out the government's intention so teachers and parents could "plan in earnest" for school to resume in just over a week.
He said the formal decision would be taken as part of the three-week review into the lockdown measures, which the government is legally required to carry out by Thursday.
With many teachers expressing concerns about wider reopening, Mr Johnson said he acknowledged that it "may not be possible" for all schools, adding that the government will support those "experiencing difficulties" to reopen as soon as possible.
Mr Johnson said reopening schools was a crucial part of the next phase of the government's response to the pandemic because "the education of our children is crucial for their welfare, their health, their long-term future and for social justice".
"So in line with the decisions taken in many other countries, we want to start getting our children back into the classroom in a way that is as manageable and as safe as possible," he said.
The proposal had prompted concerns from teaching unions, head teachers and many local authorities.
Speaking after the prime minister's announcement, Kevin Courtney, joint general secretary of the National Education Union, said the union did not agree that it would be right to reopen more widely.
He called on the government to "engage meaningfully" with unions to address concerns over issues such such as protective equipment for staff and procedures for dealing with an outbreak.
A BBC Breakfast survey with responses from 99 councils found that only 20 were advising schools to open more widely on 1 June.
Another 15 said they would not be advising schools to reopen to more pupils and 68 said they could not guarantee reopening for Reception, Year 1 and Year 6 as the government intended.
The timetable also sets England apart from other parts of the UK, where schools are not expected to open until later. Scotland's First Minister Nicola Sturgeon tweeted after the prime minister's briefing "to avoid a resurgence we must move carefully".
Schools in Scotland are scheduled to begin to reopen on 11 August, the beginning of the autumn term. In Northern Ireland, they are not expected to reopen before September.
And Wales has ruled out a return to school on 1 June, with the education minister saying only that they will reopen "when it is safe to do so".
The government "has not done a good job in building confidence", said head teachers' leaders.
This tough report card wasn't about political events – but the way that reopening schools in England is being handled.
Boris Johnson repeated the aim for opening primary schools on 1 June – although at the same time acknowledging the reality that many will not really open, with teachers' unions and some local authorities and parents not convinced of its safety.
There are some adjustments. Secondary school pupils in Years 10 and 12 will now go back from 15 June.
The first few primary year groups are still set to return on 1 June. But heads still have no explanation for how for the last month of term they are meant to fit all their primary years into school full-time, while at the same time only allowing 15 children per classroom.
A lack of trust still seems to be confusing plans for a return to school – only a week before children should be getting ready for their first day back since March.
Mr Johnson said teaching unions, head teachers and local authorities in England would be able to "ask questions and probe the evidence" further over the coming days and said that "detailed guidance" had been published setting out how to ensure safety.
That included smaller classes, staggered times for breaks, drop-offs and pick-ups, and reducing the use of shared items, the prime minister said.
Staff and students would have access to coronavirus testing, he said, and "if they test positive we will take the appropriate reactive measures".
Source: Read Full Article