The number of job vacancies in the UK hit a record high in the three months to September – a sign that the labour market is yet to fully recover following the worst of the COVID-19 pandemic.
Latest figures from the Office for National Statistics (ONS) show the number of vacancies increased by 318,000, with all industry sectors above or equal to the levels seen in the three months before the UK's first lockdown.
The UK's employment rate was up 0.5 percentage points to 75.3%, while the unemployment rate was down 0.4 percentage points to 4.5%.
Follow latest updates from Big Ideas Live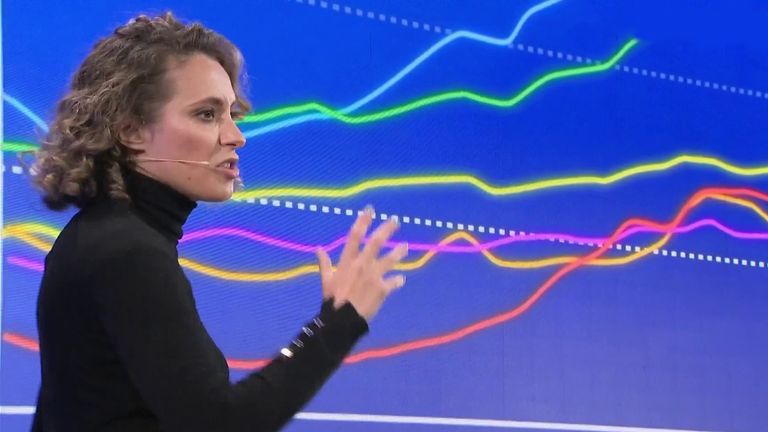 What is being seen at a regional level?
In the three months ending August this year, the highest employment rate estimate in the UK was in the east of England (79.1%) and the lowest was in Northern Ireland (71.1%).
The highest unemployment rate in the same period was in London (5.8%), with the lowest in the South West (3.4%). The North East saw the largest unemployment rate fall – 1.3 percentage points.
The highest rate of economic inactivity was in Northern Ireland (25.8%) while the lowest was in the East of England (17.9%) – a record low for that region.
In September this year, London and Scotland were the only places that had fewer payrolled employees than they did before the beginning of the COVID-19 pandemic. While London saw the biggest increase between August and September, it is still the furthest behind pre-pandemic levels.
Which sectors are most desperate for staff?
The ONS compares industry sectors using a measure of vacancies per 100 employee jobs – so for every 100 people employed, how many vacancies are there?
Some of the biggest growth has been seen in sectors that were hardest-hit during the early months of the pandemic.
For example, many pubs and restaurants closed for months due to government rules. When they were reopened, many were still under restrictions. Likewise, the accommodation sector was hit by travel restrictions.
Figures showed that there were 1.5 vacancies per 100 employees in the accommodation and food services sector between July and September 2020, but this rose to 5.9 between July and September this year.
Source: Read Full Article